Reaume Brothers Racing has signed Lawless Alan to five additional races in the 2021 NASCAR Camping World Truck Series, including Nashville, Pocono, Watkins Glen, Bristol, and Talladega. Alan made his NCWTS debut with RBR earlier this year at the Daytona Road Course, followed by Circuit of the Americas.
"Lawless had very strong runs in his first two races with us despite both being plagued by rain. We instantly recognized how talented he is and immediately went to work on finding some additional opportunities to keep him in the 34 truck. Its rare that you get to work with such a young talent, so when you have that chance, you want to take advantage of it. I'm really looking forward to getting him experience at a variety of different tracks to prepare him for next year. " expressed Owner Josh Reaume. "Lawless' understanding of the sport and the various elements far exceeds his young age. He has a great racing IQ and will undoubtedly continue to have success."
Alan, who's won championships in Legend Cars, Late Models and was Trans Am's TA2 Rookie of the Year, is scheduled to run the full NCWTS schedule in 2022. Shawn Adams, AUTOParkit's Vice President of Sales and Marketing, was excited by the announcement. "Lawless is a perfect ambassador for our brand, and we're excited to have AUTOParkit and Siemens back on the truck. When Lawless is racing, it provides us the opportunity to expose our brand to a global market. We also use these race days to entertain customers, vendors, and their families trackside. Our motorsports involvement provides the perfect venue to build camaraderie through a shared team experience and develop a personal bond with clients, which is paramount for our company's continued success."
AUTOParkit
AUTOParkit utilizes Siemens off-the-shelf components as the foundation of an automation architecture used to build world-class autonomous parking systems. AUTOParkit Systems are for new and existing buildings and can normally double-parking capacity compared to traditional ramped concrete parking structures.  AUTOParkit's sustainable approach to autonomous parking systems provides up to 17 LEED points; enables faster construction due to factory assembled subsystems; is 40% less expensive to operate since it is automated; automatically swaps EVs in EV Charging Stations to reduce capital costs up to 10X; is safer for the user; and delivers a necessary, convenient alternative to an escalating global problem. AUTOParkit™, AUTOStorit, AUTODockit, AUTOChargit, PARKSenty are all designed, manufactured, and constructed by Dasher Lawless Automation, LLC.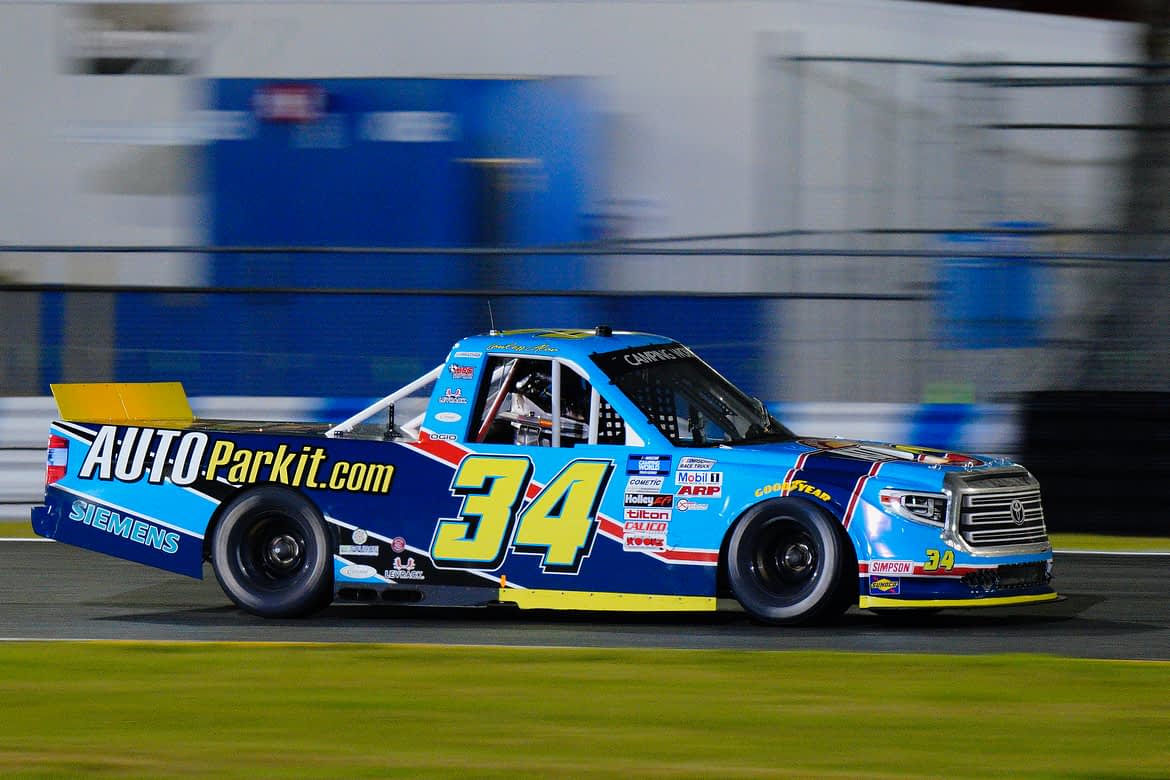 Los Angeles – Lawless Alan will once again take up his position behind the wheel of the Reaume Brothers, No. 34, AUTOParkit, Toyota Tundra at Circuit of the Americas (COTA) May 21-22. This will be the second time the outstanding Southern California driver has competed in NASCAR's Camping World Truck series.
Alan said, "I can't wait to be back behind the wheel of my AUTOParkit, Toyota Tundra. The Reaume Brothers team gave me a great truck at Daytona and I know we will be good at COTA."
Despite the fact that this will be the first time the team has been to COTA, Alan has plenty of experience from his days competing in The Trans Am presented by Pirelli. Designed specifically for Formula 1, the COTA facility is one of the world's finest.
Team Owner Josh Reaume said, "Honestly, I'm blown away at the knowledge and experience Lawless has. He's a great talent and I'm so proud to be a small part of what will truly be a highly success career in motorsports. It gives us a lot of confidence and an edge to have a driver with racing experience at COTA."
"COTA is amazing to drive," Alan said. "It is very steep uphill into turn one and very wide on the entry, it's a good place to pass on starts but it can also collect a lot of cars as it gets real narrow on the exit. You need to be in the perfect position to get through clean on the starts and the restarts. After one, there is a series of esses where you can make up a lot of time, you take a ton of curb and when you get this section right it is hugely rewarding."
The COTA track was designed for passing, Alan said. "Turn one, the turn 11 hairpin, as well as turns 12, 19, and 20 are all good passing areas.
"One of the trickiest parts is the 17, 18 combination that is really one big sweeper. If you can get a good run through the stadium section you can make up a lot of places in the 17-18 sweeper. Your car has to have a strong front end to get through this part of the track, but for sure it's a section that can make or break your lap and your race. COTA is really challenging and a place that the driver can make a big difference. I'm really looking forward to it – it's going to be a lot of fun!"
NASCAR at COTA will be a big weekend on and off the track for Alan's long-time sponsor AUTOParkit. "We are so thrilled to be back at the track with Lawless," AUTOParkit Marketing Director Steve Sharp said. "It's so important for our brand to get the exposure. It's NASCAR's first-ever race at COTA and an open event for spectators so there will tens of thousands of fans there! We'll also have almost 30 developers, builders, and business partners, including Siemens representatives as guests to help cheer Lawless on. We are all looking forward to being back trackside rooting for Lawless, hosting customers and promoting our products."
AUTOParkit Vice President of Sales Shawn Adams said, "We had an overwhelmingly positive response to our invitation to join us at COTA. Coming out of COVID, we have a lot of momentum, with more than 16 projects in development across the U.S. Besides our AUTOParkit system, we've just launched two new products, AUTOChargit and PARK Sentry. These products can be installed in any new or existing curb, lot or parking structures and are truly groundbreaking solutions in parking management and vehicle charging."
"It really is an exciting time for myself and my sponsor," Alan said. "It's fantastic that the COVID situation looks to be about contained and having fans and corporate guest back at the track is so exciting for all of us. I could not be more excited to be back on track and to work with AUTOParkit again. Their parking solutions are really the best available worldwide and their new solutions AUTOChargit and PARK Sentry are game changers when it comes to vehicle charging and parking management systems."
You can follow Lawless Alan and all of his racing on Instagram and Twitter, and be sure to check out his website, lawlessalanracing.com.
Reaume Brothers Racing is proud to announce that CJ Mclaughlin will be running five races in the NASCAR Camping World Truck Series and five races with MBM Motorsports managed by Reaume Brothers Racing in the NASCAR Xfinity Series. CJ's first race with RBR will be at Kansas Speedway on Saturday May 1st for the Wise Power 200 with SciAps as his primary sponsor.
"I look forward to working with CJ again this year, he made his truck series debut with us back in 2019 at Iowa" expressed Owner Josh Reaume. "It has been great to see him continue to grow and excel in his career, and it will be exciting to see him back in one of our trucks for a few races as well as." CJ Mclaughlin, a second generation Peruvian and Boston native, has made some great strides in his career since his debut with RBR back in 2019, by making 11 starts in the Xfinity series with RSS Racing and BJ McLeod Motorsports.
SciAps and CJ teamed up in 2018, where not only do they sponsor CJ's racing career, but also have CJ as one of their Northeast Sales Representatives. Mclaughlin not only entertains guests at/on the track, but also off the track where he meets with potential customers and Demo's the SciAps analyzers. These analyzers are handheld analytical equipment for the scrap metal and oil & gas industry for use in determining alloy grades and chemical composition.
About Sciaps
SciAps, Inc., is a Boston-based instrumentation company specializing in portable analytical instruments. Our mission is to provide durable, field-tested, portable instruments to identify any compound, any mineral, any element — anyplace on the planet. At SciAps, customer service is an extension of our commitment to provide you with exactly what you need, where — and when — you need it. When you reach out to us, you will talk to a person, not a machine. Whether your question is about a new instrument, a rental, an application, or a service matter, you will be quickly directed to someone who can help. Our global network of outstanding salespeople, application specialists and distributors who specialize in analytical instrumentation is the product of expertise we have sought and relationships we have nurtured for years. SciAps is here to answer your questions, understand your analytical challenges and provide you with the best solution to meet your needs.
CJ McLaughlin to run at Kansas